PUZZLE LINKS: JPZ Download | Online Solver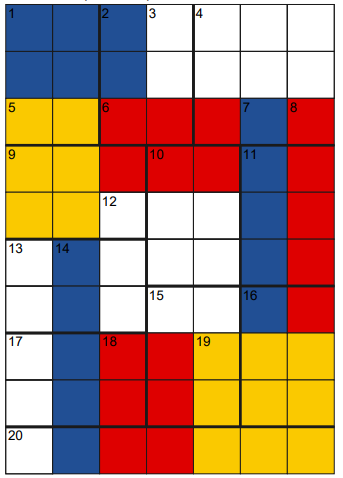 Last year we raised some money for Children's Hospital L.A. by offering a suite of crossword and variety puzzles to anyone who donated, and we're happy to say we're doing it again this year! Donate any amount at my personal fundraising page and we'll send you a suite of puzzles! This year we have an acrostic, a spiral, a flower power, a patchwork quilt (see Piet Mondrian-inspired grid art to the left!), and a kaidoku. Plus! As a special bonus, you'll get a never-before-seen banger themeless puzzle from the one and only Kate Chin Park! Act now!
This week's puzzle is from last year's puzzle pack: it's Kirby! The other puzzles will remain exclusives for people who donated last year, but I wanted to share this one as an incentive for donating this year. Plus, it's so cute! How can you not share it?