PUZZLE LINKS: JPZ Download | Online Solver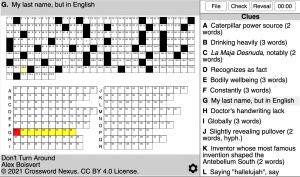 Back with an acrostic today!  I like how this one came out.  Thanks to our test-solvers Chris and Ajay on Crosscord for looking this one over.  Also, at Chris's suggestion we've added a link to our Acrostic Generator to the main site, so it'll be easier to find in the future.  There are still a lot of subpar words in the word list powering the generator, so I had to do a fair amount of tinkering to get this one in its current state, but I eventually got there.  We'll be doing occasional updates to the word list, and of course you can always download the Python script and run against your own word list.
Enjoy the solve, and as always, if you plan to solve on Twitch, let us know about it!