Did you enjoy our Snake Charmer puzzle last week?  Did it inspire you to try to make your own?  Well, you're in luck, because we've released a tool to help you do just that.  Check out the Snake Charmer Construction Tool, now available on our GitHub site.  If you tried the Spiral tool the interface will be very similar to you.  The only catch here is that you'll need to structure the inputs like in our example, where you wrap the end of loop 1 into the start of loop 2.  To wit: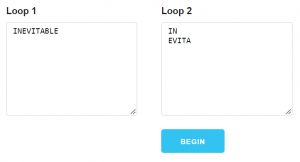 The word "IN" in loop 2 here won't be in the final puzzle.  You just need it as a placeholder to continue building.  It is up to you to ensure that loop 1 ends with a word ending with "IN" when you get to that point.  Play around with it a bit and it will become second-nature.
If you end up making something with us be sure to let us know about it!