PUZZLE LINKS: JPZ Download | Online Solver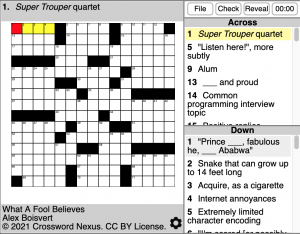 I can't believe I found an Oscar Wilde quote that fits symmetrically and that no one has used before.  I mean, I literally can't believe it, so I assume one of two things is true: either (a) someone has used it and I just wasn't able to find it or (b) it's not really an Oscar Wilde quote.  Either way, I think it's fun but if you're the type where quote puzzles aren't for you, then you can skip this one.
We're continuing our Yacht Rock series!  Can you believe we're 25% of the way through already?  Today we go back to episode 1, where it all began, at Koko's boathouse.  Simpler times.
Enjoy the solve, and as always, if you plan to solve on Twitch, let us know about it!