Have you ever had to clue a puzzle, and you get to a boring word like "felt" and wish you had some good way to clue it?  Maybe options like these would work for you.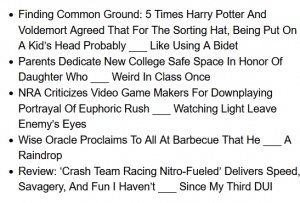 These are the options spit out by our new tool, the "Onion Clue" generator.  Just type in the word (or two-word phrase!) that you want clued and it will give you the options it's got.  Pretty simple!
A few caveats: the data set is not complete.  Personal favorite "William Safire Orders Two Whoppers Junior" tragically isn't there, along with a bunch of others. If someone can point me to a better data set I'll happily use it! Also, not all words are searchable in order to make the loading times not ridiculous.  Otherwise, it's a perfectly usable tool as is, and we hope it gets some use!
We'd love to add similar lookups for other parody sites like Reductress, so if you have an idea of a site we could add and a data set we could use, throw them our way!